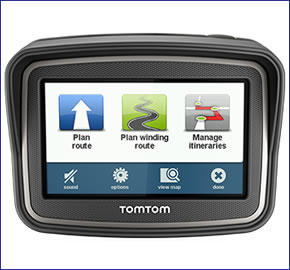 TomTom Rider V5 motorcycle sat nav has a large 4.3-inch screen and is preloaded with full Europe. What's more these maps are FREE to update for life.
TomTom RIDER V5 also includes everything you need to mount, and includes a charging bike dock and RAM mount. Settings include a preference towards winding roads and you can even download and share other motorcyclists journeys and customise them. There is also Tyre Pro software that allows you to plan your route including winding routes and motorcycle POIs.
The TomTom Rider V5 Full Europe Premium Pack version includes extra accessories, these are car mounting kit, anti-theft solution and premium case.
TomTom Rider is the latest motorbike sat nav from TomTom and is the first bike unit from the leading manufacturer to feature a 4.3-inch screen. As you'd expect the screen is glove friendly and designed for all weather conditions. The TomTom Rider comes preloaded with maps of up to 45 European countries (depending which model your purhcase) and are FREE to update for the lifetime of the product. A large POI (Points of Interest) database also provides details for nearest stopping locations and hotels, etc.
The TomTom Rider now includes Tyre Pro software for planning your route before you leave you home on your computer (only available with Europe models not the Western Europe model). Also comes with advanced route splitting. You will also receive motorcycle-friendly points of interest and enhanced winding road routing capabilities for more interesting journeys along winding roads.
At each junction you will receive realistic 3D representation of the junction making your journey safer by warning your in advance as to which lane you need to be in. The TomTom Rider also features speed camera locations so you will be alerted to all fixed and mobile speed cameras. The speed camera information is provided by Road Angel.
TomTom Rider includes a charging bike dock so you can charge the TomTom whilst on the move. Also included is a RAM mount by the world's leading mount manufacturer (RAM) which will handle tough biking conditions. The TomTom Rider Premium Pack model (pictured right) also includes the following accessories: car mounting kit, anti-theft solution and premium carry case.
TomTom RIDER can be set up to avoid straight roads and route you to more interesting winding roads. You can also upload routes from other motorcyclists and customise them for your own journey. There is also PC Route Management software called Tyre that will allow you to plan your route, before you set out, on your PC.
You can save favourite tours and memories to the motorcycle sat nav. There is also a Trip Recording feature that records everything from spontaneous detours to waypoints in between.
The Rider also will warn you of road changes such as new speed limits, blocked roads and help avoid detours. Furthermore IQ routes provides real travel times accurate enough to plan your day with.
TomTom Rider offers hands free calling via Bluetooth. It simply connects to your phone and routes calls direct to you. You will need to buy an additional headset to make and receive calls on the whilst biking however.
TomTom Rider also has the capacity to share files via Bluetooth with other TomTom users. You can also use the TomTom navigational unit to turn on/off your motorbikes ignition.
---
Cardo Scala Rider motorcycle headsets at ActiveGPS.co.uk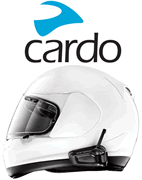 Cardo Scala Rider headsets are available to pair with your TomTom Rider V5. The benefits of buying and using a Scala Rider headset with your TomTom Rider V5 are three-fold; 1. you can listen to sat nav voice turn-by-turn instructions, 2. listen to music and 3. communicate with other motorcyclists whilst riding (using the intercom when within range and mobile phone when out of range).
We sell the latest 2019 range of Cardo Scala Rider headsets including the PACKTALK, SMARTPACK and SMARTH ranges.
View all Cardo Scala Rider headsets
---
TomTom Rider V5 Features
‣4.3-inch multi-touch screen
‣Pre-installed Western European maps or full European maps for 45 countries depending on model
‣FREE lifetime sat nav map updates
‣8-digit postcode - navigate using full UK postcode search
‣3D representation of each junction
‣Winding roads feature to be routed along more interesting routes
‣Motorcycle-friendly Points of Interest database
‣Bluetooth voice instructions
‣Advanced route splitting
‣Bluetooth hands-free calls
‣Includes RAM Mount, Charging Bike Mount and Battery Cable
‣Tyre Pro software for plannning your route before you start your journey (Only on full Europe Edition - not available on Western Europe)
‣Simplified menu for easiest use
‣Improved glove-friendly screen
‣Advanced lane guidance gives you extra clarity when navigating difficult junctions
‣TomTom IQ Routes - The knowledge of millions in your route
‣TomTom MapShare - Correct your map and get others' changes
‣Internal rechargeable Li-Ion giving approx. 6 hours
‣Waterproof (IPX7) - protects against any wet-weather conditions
‣TomTom Rider V5 can be used in a car using the optional car mounting kit on the windscreen of the car
‣USB port and USB cable 2.0 for PC connection
‣1 year guarantee
---
Installation
TomTom Rider is ready to use straight from box and includes RAM mount which attaches to most motorbike handlebars and the extremely useful Charging Bike Mount and Battery Cable which provides both a holder and power to the RIDER and fits onto the RAM mount. So everything you need to power, charge and mount the rider is supplied as standard.
Map Coverage

TomTom RIDER motobike sat nav is preloaded with either Western Europe maps or full Europe (eastern and western) with 45 counrtries in Europe.
Europe 45 countries
Detailed coverage: Andorra, Austria, Belgium, Czech Republic, Denmark, Estonia, Finland, France, Germany, Gibraltar, Greece, Hungary, Italy, Liechtenstein, Lithuania, Luxembourg, Malta, Monaco, Norway, Poland, Portugal, Republic of Ireland, San Marino, Slovakia, Slovenia, Spain, Sweden, Switzerland, the Netherlands, United Kingdom and Vatican City.
Partial map coverage: Bulgaria, Croatia, Latvia, Romania, Turkey, Ukraine, Russian Federation.
Connecting Roads: Albania, Belarus, Bosnia-Herzegovina, Macedonia, Moldavia, Montenegro, Serbia.
What's in the box? (when purchased from ActiveGPS.co.uk)
‣TomTom Rider V5
‣Charging bike mount and battery cable
‣RAM mounting hardware
‣USB home charger
‣PC Software for route management known as Tyre Pro (Only available with full European models not the Western Europe model)
‣Documentation
In addition to the above, the TomTom Rider Premium model includes the following accessories:
‣Car Mounting Kit
‣Anti-Theft Solution
‣Premium Carry Case
---
TomTom Rider V5 Accessories
Want to add accessories to your TomTom Rider V5 model? We sell a vast selection of genuine TomTom parts and accessories.
View all of the TomTom Rider V5 accessories
---
TomTom Rider V5 Technical Specification
‣Technology: GPS
‣Display: 4.3-inch (480 x 272 pixels) sunlight readable multi-touch screen
‣Power: 12 volt, motorbike battery
‣Battery life: Up to 6 hours autonomous operation
‣Compatibility: Supports leading Bluetooth-enabled helmets
‣Installation: Plug and play
‣Waterproof: (IPX7) - protects against any wet-weather conditions
‣Dimensions: Width - 130mm, Height - 101mm, Depth - 53mm
‣Weight: 353g
‣Guarantee: 1-year
‣TomTom Rider V5 manual

Manual requires Adobe Acrobat Reader
Download a free copy here
This product is a sophisticated electronic device which requires that you read, understand, and act upon the information given in the instruction manual (usually available via the above 'manual' link). You will need internet access and, in accordance with the manufacturers' recommendations, regularly seek out and accept all firmware or software updates offered by the manufacturer. All GPS devices need to 'see' the satellites in the sky. Therefore you will need to know that your vehicle does not have glass that will block or impede the GPS signal.
---
Page updated: 18th March 2019