TomTom Rider 400 Europe is a motorcycle satnav with a 4.3-inch touchscreen. There are two models to choose from which are either Lifetime Full European mapping for 45 European countries or Full European Maps with Car Mounting Kit, Anti-theft Solution and Protective Carry Case. It is built to withstand all weather conditions. If you buy a compatible Bluetooth Headset you will receive hands-free navigational instructions.
Lifetime Traffic Information is provided which will route you around traffic congestion. Furthermore a speed camera locations database is provided for the lifetime of the TomTom Rider product.
Also plan your route before you travel with MyDrive and Tyre Pro.
TomTom Rider 400 has been discontinued.
The TomTom Rider 400 EU motorcycle sat nav is available in two different packages, these include:
1. TomTom Rider 400 Full Europe with 45 European countries
2. TomTom Rider 400 Full Europe with 45 European countries PLUS includes Car Mounting Kit, Anti-Theft Solution and Protective Carry Case (as pictured below).
TomTom Rider 400 motorbike satnavs include 4.3-inch touchscreen and has also been designed for use in all weather conditions and it is waterproof to IPX7 standards. You can view the route ahead in either landscape or portrait mode. The Portrait mode shows more information about the road ahead.
Audio navigational instructions are provided via Bluetooth enabling you to keep your eyes on the road. You will need to buy a separate Bluetooth Headset to work with your TomTom satnav system as this is not supplied in the box when purchasing. You can also make hands-free calls via bluetooth using this TomTom Rider 400 bike satnav.
With the TomTom Rider 400 EU you can select to be routed along roads with hills, moderate peaks or steep inclines/high peaks. You can also select routes to include winding roads. This helps you choose a route specific to your requirements depending whether you are making a recreational journey or if you just want the shortest route for example.
Lifetime Traffic information is supplied with the TomTom 400 EU for the lifetime of your device. This will ensure that you will always be routed around traffic jams.
A speed camera locations database is available for the lifetime of your TomTom motorcycle satnav product. You will know where the fixed and mobile speed camera locations are which will help to protect your driving licence. The speed camera coverage includes 36 countries across Europe. Updates are available in real-time and twice weekly via MyDrive Connect and TomTom HOME. If you buy a Full European Mapping model speed cameras are included for the lifetime of the product. If you buy the TomTom 400 Rider with Western Europe mapping then the speed camera locations database is only free for 3 months after which you will need to pay the subscription charge of £19.99 per year.
MyDrive and Tyre Pro
MyDrive feature allows you to plan routes on a Smartphone, Tablet, PC or Mac computer. You can then send the journey to your satnav. Additionally, you can view real-time traffic information before using your satnav. Favourites and POI's can also be managed using MyDrive Feature.
Tyre Pro feature allows you to plan a route on your PC Route with multiple stops along the journey. Create and edit routes on your computer and share routes with friends.
MyDrive is Windows and Mac Compatible. Tyre Pro is only Windows Compatible, not Mac Compatible.
---
Cardo Scala Rider motorcycle headsets at ActiveGPS.co.uk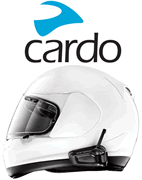 Cardo Scala Rider headsets are available to pair with your TomTom Rider 400. The benefits of buying and using a Scala Rider headset with your TomTom Rider 400 are three-fold; 1. you can listen to sat nav voice turn-by-turn instructions, 2. listen to music and 3. communicate with other motorcyclists whilst riding (using the intercom when within range and mobile phone when out of range).
We sell the latest 2019 range of Cardo Scala Rider headsets including the PACKTALK, SMARTPACK and SMARTH ranges.
View all Cardo Scala Rider headsets
---
TomTom Rider 400 Features
‣4.3-inch touchscreen display
‣Full Europe mapping (45 countries)
‣Model available with Full European Mapping and Car Mount, Anti-theft solution and Carrying Case
‣Turn-by-turn directions with spoken street names
‣View in landscape or portrait mode
‣Bluetooth navigation spoken instructions when used with optional headset
‣Bluetooth handsfree calls
‣Hills and winding roads selectable for your route preference
‣Free Lifetime Traffic Information for avoiding traffic jams
‣Speed cameras free. 12 months free with Full European Mapping model, 3 months free with Western Europe Mapping model
‣Look up addresses and points of interest
‣My Drive feature for planning routes
‣Tyre Pro feature for for planning routes
‣Displays your route, current speed, time of arrival, name of current street and it can also display points of interest such as food, fuel and cash machines.
‣Waterproof to IPX7 standards.
‣1 year manufacturers guarantee
---
Installation
On bike installation
The TomTom Rider 400 includes everything you need to mount and install it on the handlebar of most motorbikes. Included when you purchase from ActiveGPS is a RAM mount designed to attach onto the handlebar of your motorcycle. Once this is fitted, a unique TomTom Rider 400 motorcycle mount which is also included can be fitted to the RAM mount. You're then ready to ride with the TomTom Rider 400.
In-car installation
A car kit is available separately. It is also included when buying the Premium Pack. Simply position the automotive mount on your vehicles windscreen using the suction cup mount and power via your vehicles cigarette lighter adaptor with the High-Speed Dual Charger and you are ready to use the motorcycle sat nav in your car.
Map Coverage

TomTom Rider 400 includes a choice of either Western Europe maps or Full Europe Maps:
For use in Europe the TomTom Rider 400 sat nav can be preloaded with the following counrtries across Europe:
Detailed coverage: Andorra, Austria, Belgium, Croatia, Czech Republic, Denmark, Estonia, Finland, France, Germany, Gibraltar, Greece, Hungary, Ireland, Italy, Latvia, Liechtenstein, Lithuania, Luxembourg, Madeira, Malta, Monaco, The Netherlands, Norway, Poland, Portugal, Romania, San Marino, Slovakia, Slovenia, Spain, Sweden, Switzerland, Vatican City, Cyprus, United Kingdom (including Channel Islands).
Partial map coverage: Bulgaria, Cyprus, Montenegro, Russian Federation, Serbia and Turkey.
Connecting Roads: Albania, Belarus, Bosnia-Herzegovina, Macedonia and Moldava.
What's in the box? (when purchased from ActiveGPS.co.uk)
‣TomTom Rider 400
‣Lifetime maps - Full Europe
‣Motorcycle mount
‣RAM Mount
‣Battery Cable
‣USB Cable
‣Car Mount Kit including Windscreen Mount and High-Speed Dual-Charger. Carrying Case, Anti-theft Solution (when you buy the Premium Pack)
‣Documentation
---
TomTom Rider 400 Accessories
Want to add accessories to your TomTom Rider 400 model? We sell genuine TomTom parts and accessories including the replacement battery cable and replacement motorbike mount with battery cable.
View all of the TomTom Rider 400 accessories
---
TomTom Rider 400 Technical Specification
‣Technology: GPS / Bluetooth
‣Display: 4.3-inch (480 x 272 pixels) dual-orientation (horizontal or vertical) touchscreen
‣Waterproof: yes (IPX7)
‣Battery Life: up to 6 hours depending on usage and settings
‣Internal memory: 16GB
‣SD Card Slot: microSD slot
‣Installation: Plug and Play
‣Power: 12 volt, Motorcycle Power Cable.
‣Dimensions: Width - 136.8mm, Height - 88.4mm, Depth - 30.5mm
‣Weight: 280g
‣Guarantee: 1-year
‣TomTom Rider 400 manual

Manual requires Adobe Acrobat Reader
Download a free copy here
This product is a sophisticated electronic device which requires that you read, understand, and act upon the information given in the instruction manual (usually available via the above 'manual' link). You will need internet access and, in accordance with the manufacturers' recommendations, regularly seek out and accept all firmware or software updates offered by the manufacturer. All GPS devices need to 'see' the satellites in the sky. Therefore you will need to know that your vehicle does not have glass that will block or impede the GPS signal.
---
Page updated: 18th October 2017