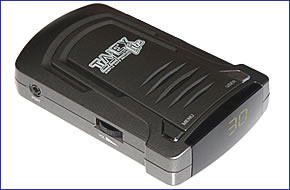 Talex Lite speed camera detector uses GPS technology to warn of fixed and mobile speed cameras. Spoken voice alert announces and displays the legal speed limit when approaching UK speed camera locations.
Talex Lite has been discontinued.
Accessories are still available for your Talex Lite click here.
Looking for a speed camera detector with FREE speed camera updates? You may wish to consider the Snooper MY-SPEED XL.
For the latest range of speed camera detectors click here.
Talex Lite is 100% legal, state of the art speed camera detector with spoken voice alerts of UK speed camera locations.
Talex Lite provides information of fixed, mobile and red light camera positions and accident black spots, making clear voice announcements. Talex Lite will warn you to reduce your speed if you are approaching a speed cameras site above the speed limit.
Talex Lite GPS speed camera alert system features an LED display, which provides the user with additional information to the voice announcements. Whilst driving the Talex Lite will display the current speed of your vehicle.
On approach to a speed camera location Talex Lite first sounds a chime followed by a voice announcement such as 'Warning speed camera 500yards ahead - limit 30mph'. This will typically happen at 500yards from the speed cameras position, (in some cases a 500yards warning is not ideal because of the road layout). A second chime is heard at 200yards from the speed camera site, and if the vehicle is still over the speed limit, a continuous warning is heard 'Warning - reduce speed' until the vehicle speed drops to the speed limit, or the speed camera site has been passed.
---
Talex Lite Features
‣Warnings of fixed cameras including Gatso, Truvelo, SPECS, Speedmaster and DS2
‣Warnings of red light cameras
‣Warnings of possible mobile sites
‣Warnings of accident black spots
‣Clearly announces the legal speed limit when approaching camera sites
‣Clear voice alerts
‣Speed Sensitive
‣Advises speed limit (for cars) at speed camera locations
‣Over speed warning in close proximity to speed cameras
‣Direction Sensitive
‣Accident Black Spot Positions
‣Accurate Speed Reading
‣Lightweight compact design
‣Easily transferable between vehicles (extra mounts available)
‣Comprehensive UK speed camera database - updated weekly
‣9-24 volt operation (ideal for commercial vehicles)
‣Includes USB update cable for speed cameras updates
‣2 Years manufacturers warranty
---
Auto Express - Talex Lite Best Buy 2007
The Talex picked up on all the fixed traps and mobile sites, with its GPS receiver spotting quickly when a camera had been passed. Also, the voice warnings for all types of trap included the speed limits.
---
Installation
The Talex Lite is easy to install, taking seconds to install and remove from your vehicle. The Talex Lite is installed on your dashboard via the supplied Magnetic Mount, then simply connect the Car Power Lead and your ready to use your Talex Lite.
What's in the box? (when purchased from ActiveGPS.co.uk)
‣Talex Lite
‣9-24 volt In-vehicle Charger
‣Magnetic Mount
‣Cable Tie Kit
‣USB Lead
‣User Guide
---
Talex Lite Accessories
Want to add accessories to your Talex Lite? We sell a very limited selection of genuine Talex parts and accessories.
View all Talex Lite accessories
---
Talex Lite Technical Specification
‣Technology: GPS
‣Installation: Plug & Play
‣Power: 9-24 volt, cigarette lighter
‣Dimensions: Width - 67mm, Depth - 103mm, Height - 23mm
‣Guarantee: 2-year
Page updated: 5th December 2016