Garmin Quest 2 GPS system is pre-loaded with mapping for all of Europe. The Garmin Quest 2 satellite navigation system features auto-routable, turn-by-turn, voice-prompted navigation with automatic off-route and detour recalculation.
Garmin Quest 2 has been discontinued.
Released in 2017, the replacement and equalivent model to the Garmin Quest 2 is the Garmin GPSMAP 276Cx.
For the latest range of marine devices click here.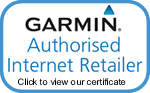 The Garmin Quest 2 navigation system has a brilliant 256-color backlit TFT display making it easy to read in any light. Furthermore the Garmin Quest 2 is waterproof and has a rechargeable internal lithium-ion battery that provides up to 20 hours of use and an A/C charger.
The Garmin Quest 2 comes pre-loaded with European maps-including nearly six million points of interest like gas stations, ATMs, hotels, restaurants, and attractions. The Garmin Quest 2 also accepts optional MapSource cartography like Recreational Lakes with Fishing Hot Spots, and BlueChart.
As an added benefit, you can now import customised points of interest with the help of Garmin's free POI Loader software. The possibilities are endless - download speed camera databases or school zones, and you will receive a warning if you are traveling too fast. In addition, an optional proximity-alert feature notifies you of upcoming custom POIs.
---
Garmin Quest 2 Features
‣Automatic routing with turn-by-turn directions and voice guidance
‣High-speed processor means fast automatic off-route and detour recalculation
‣500 user locations (waypoints) with name, category, comment, and graphic symbol
‣Route Planner lets you save 50 routes, specify via points, and preview turns
‣Auto sort multiple destinations to provide an efficient route for deliveries and sales calls
‣Customisable road segment and area avoidance
‣Displays residential streets, addresses, and business listings
‣256-colour, bright, sunlight-readable display makes it easy to view turn-by-turn instructions and map detail
‣Built-in European basemap with automatic routing capabilities, including highways and exits
‣GPS antenna folds flush with the unit when not in use
‣WAAS/EGNOS-enabled, 12 parallel channel GPS
‣140 MB supplemental map storage is available for downloading map detail from other MapSource products
‣Voice prompts for navigation instructions and warnings using 12-volt speaker (included)
‣USB data connection for fast map downloads from Garmin's entire line of MapSource DVDs
‣Waterproof: IEC 60529 IPX7 standards (submersible in one meter of water for up to 30 mins.)
‣Dual-position display mode
‣10,000-point automatic track log lets you retrace your path
---
Installation
The Garmin Quest 2 has been designed to be a fully portable navigation system, and as such can be transferred from vehicle to vehicle with ease by the user. The Garmin Quest 2 can be powered using the external speaker with 12-24 volt adapter cable. Built-in Li-ion batteries will allow for handheld operation.
In addition the Garmin GPS Quest 2 can also be powered by the provided mains A/C power adaptor for use in the home or office, when updating map detail or configuring a route.
The Garmin Quest 2 vehicle suction cup mount allows an easy installation. The built-in speaker provides voice guidance.
---
Garmin Quest 2 Technical Specification
‣Technology: GPS
‣Installation: Handheld / Plug & Play
‣Power: Internal Battery / 12 volt, cigarette lighter
‣Dimensions: Width - 114mm, Depth - 23mm, Height - 56mm
‣Guarantee: 1-year
‣Garmin Quest manual

Manual requires Adobe Acrobat Reader
Download a free copy here
This product is a sophisticated electronic device which requires that you read, understand, and act upon the information given in the instruction manual (usually available via the above 'manual' link). You will need internet access and, in accordance with the manufacturers' recommendations, regularly seek out and accept all firmware or software updates offered by the manufacturer. All GPS devices need to 'see' the satellites in the sky. Therefore you will need to know that your vehicle does not have glass that will block or impede the GPS signal.
---
Why buy from us?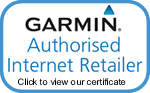 We are official Authorised Internet Retailers for Garmin. We sell genuine Garmin products, accessories and maps. We purchase from assigned Garmin UK distributors. We do not buy on the grey market and we do not sell counterfeit products. You can rest assured that by purchasing from ActiveGPS you will receive the full support of Garmin.
Page updated: 26th March 2019