Protect and look after the 5-inch screen/head unit of your Garmin GPS 158/158i with this genuine protective cover. The protective cover fits snugly over the display of the GPS 158.
Mount your GPS 158 chartplotter with ease when using this genuine mount. Once sited the mount enables you to tilt and swivel your GPS 158, giving you the best view of the GPS 158 5-inch grey scale screen. The mount also includes quick cable disconnect, allowing you to remove the GPS 158 easily. More details
Want to mount your GPS 158 flush on your boat? You need to buy this genuine Garmin GPS 158/158i flush mount kit.
The GPS 158 flush mount kit includes the following parts: flush mount gasket, mounting screws and mounting instructions.
Power and connect your Garmin GPS 158i with this 4-pin power/data cable. The cable includes 6 feet (1.82 metres) length of cabling and also features NMEA 0183 inputs/output. More Details
Add an external GPS antenna to your GPS 158 and take advantage of the GLONASS system/constellation of satellites as well as standard GPS with the GA 38 antenna.
The GA 38 antenna is also ideal when mounting your Garmin GPS 158/158i in your boats cabin and away from a clear line of sight of the sky above and orbiting GPS satellites. More Details
Please note: We do sell a version of the Garmin GPS 158i complete with the GA 38 GPS/GLONASS external antenna, to view click here.
Why buy from us?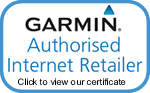 We are official Authorised Internet Retailers for Garmin. We sell genuine Garmin products, accessories and maps. We purchase from assigned Garmin UK distributors. We do not buy on the grey market and we do not sell counterfeit products. You can rest assured that by purchasing from ActiveGPS you will receive the full support of Garmin.
Page last updated: 23rd October 2018