Garmin's latest GPS bike navigator models named the Edge Touring are available in two different models - the Edge Touring and the Edge Touring Plus.
The Edge Touring Plus includes a barometric altimeter that will display elevation details and ascent and decent information. Furthermore only the Plus model is compatible with a wireless ANT+ heart rate monitor.
Both systems include a compass and are also waterproof and built specifically for use on a bike. They both feature a 6.6cm glove friendly touchscreen and include an OSM Cycle map for 25 European countries. There are also three different modes for different types of cycling and two ways to choose your route which are via destination or distance cycled.
Garmin Edge Touring and Touring Plus have both been discontinued
Accessories, spares and parts are still available for your Edge Touring model.
For the latest range of cycling GPS systems click here.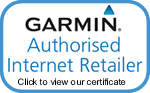 The Edge Touring is a GPS navigation device for cyclists which includes a map of Europe for cyclists. The Garmin Edge Touring range comprises of two models. These are the Garmin Edge Touring and Garmin Edge Touring Plus. The difference between the two models is the Plus version includes a Barometric Altimeter providing you with elevation, ascent and descent information. The Plus is also compatible with the wireless ANT+ heart rate monitor. Furthermore only the Plus model will display and record temperature whilst you ride.
The Edge Touring systems are both built to be installed on a bike. They are waterproof to IPX7 standards and they have a battery life of 17 hours.
This bike-specific navigator has a 6.6cm touchscreen display which is also glove friendly. The European mapping provided on this GPS cyclists device is specific to bikes allowing for both on-road and off-road navigation. In fact, there are 3 modes to select from with this device. These are:
‣Cycling - Paved roads
‣Tour cycling - unpaved roads
‣Mountain biking - paths and trails
There are two ways to choose your route with the Edge Touring. These are by 'destination' or by 'distance'. With destination you can select from addresses and cyclist points of interest as your destination and you can choose multiple places to visit along the same single route. Secondly you can choose your route by distance. This includes round trip routing which offers up to three ride options whereby you can choose from 3 alternative routes. You can also select to plan rest stops, find attractions and more. You will receive bike-specific turn-by-turn directions on your Edge Touring system too throughout your chosen route.
Both systems include a compass. However only the Touring Plus model includes a Barometric Altimeter. This altimeter will display and record elevation data so you can either view it instantly or download and view it on a computer. It also shows total ascent, total descent and gradient information.
There is a free online Garmin community where you can share and download routes. These are Garmin Connect and Garmin Adventures. You can also customise downloaded routes or create new rides.
---
Garmin Edge Touring Features
‣6.6-cm touchscreen which is glove friendly
‣Includes cyclist specific map of Europe
‣Plus model only includes Barometric Altimeter with elevation and ascent and descent information
‣Plus model only includes temperature information
‣Compass
‣Choose route by destination, point of interest or distance or ride
‣Round trip routing offers choice of 3 alternative routes
‣Waterproof standard: IPX7 (one metre of water for 30 minutes)
‣Up to 17 hours of battery life via rechargeable lithium-ion battery
‣Weighs 98.0grams
‣microSD card slot available for storage of workout data and additional map detail
‣Plus model only compatible with wireless ANT+ heart rate monitor
‣1 Year manufacturers guarantee
---
Coverage
The Edge Touring and Touring Plus both come supplied with a pre-programmed SD card with OSM coverage for the following twenty-five (25) countries:
Andorra, Austria, Belgium, Croatia, Czech Republic, Denmark, Finland, France, Germany, Republic of Ireland, Italy, Liechtenstein, Luxembourg, Monaco, The Netherlands, Norway, Poland, Portugal, San Marino, Slovakia, Spain, Sweden, Switzerland, UK, Vatican City
What's in the box? (when purchased from ActiveGPS.co.uk)
Both versions of the Garmin Edge Touring models include the following:
‣Garmin Edge Touring / Touring Plus
‣Quarter-turn bike mount
‣USB Cable
‣Garmin cycling map on microSD card (pre-inserted in Edge)
‣Quick Start Manual
---

Garmin Edge Touring Accessories
Looking for accessories and spares for the Garmin Edge Touring? All parts are genuine Garmin product and specifically designed for use with the Garmin cycle GPS Edge Touring device.
View all Garmin Edge Touring accessories
---
Garmin Edge Touring Maps
Discover the optional range of maps that you can add to the Garmin Edge Touring here. Maps available include GB Discoverer Ordnance Survey (OS) mapping, Cycle Map Europe and TOPO topographical mapping.
View all Garmin Edge Touring accessories
---
Do you have a question about the Garmin Edge Touring? Submit your question via our contact page.
---
Garmin Edge Touring Technical Specification
‣Technology: GPS
‣Display size: 3.6 x 5.5-cm ; 6.6cm diag
‣Display resolution: 160 x 240 pixels
‣Display type: Colour LCD touchscreen
‣Waterproof: IPX7
‣Battery: Rechargeable lithium-ion
‣Battery life: up to 17 hours
‣Dimensions: Width - 5.1cm, Height - 9.3cm, Depth - 2.5cm
‣Weight: 98.0g
‣Guarantee: 1-year
‣Garmin Edge Touring manual

Manual requires Adobe Acrobat Reader
Download a free copy here
This product is a sophisticated electronic device which requires that you read, understand, and act upon the information given in the instruction manual (usually available via the above 'manual' link). You will need internet access and, in accordance with the manufacturers' recommendations, regularly seek out and accept all firmware or software updates offered by the manufacturer. All GPS devices need to 'see' the satellites in the sky. Therefore you will need to know that your vehicle does not have glass that will block or impede the GPS signal.
---
Why buy from us?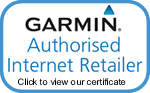 We are official Authorised Internet Retailers for Garmin. We sell genuine Garmin products, accessories and maps. We purchase from assigned Garmin UK distributors. We do not buy on the grey market and we do not sell counterfeit products. You can rest assured that by purchasing from ActiveGPS you will receive the full support of Garmin.
Page updated: 15th April 2019