Garmin Edge 205 designed for cyclists, features a grey-scale display and measures speed, distance, time, calories burned, altitude, climb and descent plus much more.
Garmin Edge 205 also features Virtual Partner which allows you to race yourself over your regular rides to check your process.
Easy to use - simple start-up, with no wheel sensors or calibration necessary. Garmin Edge 205 is easy to switch between bikes and includes a 12 hour battery life.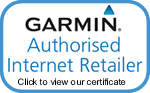 Take your ride to the next level with the Garmin Edge 205, Garmin's GPS-enabled personal trainer and cycle computer. Whether you're a competitive racer or weekend cyclist, Garmin Edge will help you achieve your personal best.
Get the Data You Need
Rugged, lightweight Garmin Edge 205 attaches easily to the stem or handlebars of your bike with the included bike mount. Just turn it on, acquire GPS satellites and go. Edge automatically measures your speed, distance, time, calories burned, and also records the route you have taken for review. For even more detailed data, get the Edge 305, which can track your heart rate, cadence, climb and descent.
Other Garmin Edge 205 features:
‣Easy to install; no calibration required. Just snap it into the bike mount and go.
‣High-sensitivity GPS receiver tracks your position even in tree cover and canyons, making it extremely reliable for location, distance and speed information.
‣Virtual Partner® lets you race a virtual competitor over a specified distance and speed.
‣Courses let you race against a previously recorded workout, so you can compare your current and past performances over the same ride.
‣Auto Pause® pauses the timer when you slow down or stop and resumes when you speed up again, so you can focus on your ride.
‣Auto Lap® automatically starts a new lap each time you pass a specified location or travel a preset distance.
Track Your Progress
As an added benefit, you can plan, analyse and store data from your workouts using free Garmin Training Center® software, which lets you analyse data with interactive graphs that chart your speed, time and elevation. Overlay your ride on a map so you can pinpoint specific areas and see how elevation and other factors affect your performance. Or, upload your workout data to MotionBased.com, Garmin's web-based application that provides in-depth analysis of your workouts, online mapping and route sharing that will take your training to the next level. Endurance athletes can also use the Garmin Edge with TrainingPeaks.com, an easy-to-use web-based training system designed to help athletes train for any event.
Garmin Edge 205 Features
‣Customisable cycle computer
‣Grey-scale display
‣Rugged, lightweight
‣Measures speed, distance, time, calories burned, altitude, climb and descent plus much more
‣Vitual Partner lets you "race" a virtual competitor
‣AutoPause and AutoLap
‣Easy to install - no calibration required
‣Waterproof standard: IEC 60529 IPX7
‣Up to 12 hours of battery life via rechargeable lithium-ion battery
‣Weighs 88grams
‣USB Interface
‣1 Year manufacturers guarantee
---
What's in the box? (when purchased from ActiveGPS.co.uk)
‣Garmin Edge 205
‣Bike Mount
‣AC Adaptor Cable
‣USB Cable
‣Training Center CD-Rom
‣Owner's Manual on Disk
‣Quick Start Manual
---

Garmin Edge 205 Accessories
Looking for accessories and spares for the Garmin Edge 205? All parts are genuine Garmin product and specifically designed for use with the Garmin cycle GPS 205 device.
View all Garmin Edge 205 accessories
---
Garmin Edge 205 Technical Specification
‣Technology: GPS
‣Display size: 117mm x 144mm
‣Display resolution: 128 x 160 pixels
‣Display type: Black and white LCD
‣Waterproof: IEC 60529 IPX7
‣Battery: Rechargeable lithium-ion
‣Battery life: 12 hours
‣Dimensions: Width - 44mm, Height - 94mm, Depth - 23mm
‣Weight: 88g
‣Guarantee: 1-year

Manual requires Adobe Acrobat Reader
Download a free copy here
This product is a sophisticated electronic device which requires that you read, understand, and act upon the information given in the instruction manual (usually available via the above 'manual' link). You will need internet access and, in accordance with the manufacturers' recommendations, regularly seek out and accept all firmware or software updates offered by the manufacturer. All GPS devices need to 'see' the satellites in the sky. Therefore you will need to know that your vehicle does not have glass that will block or impede the GPS signal.
---
Why buy from us?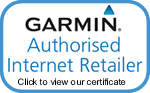 We are official Authorised Internet Retailers for Garmin. We sell genuine Garmin products, accessories and maps. We purchase from assigned Garmin UK distributors. We do not buy on the grey market and we do not sell counterfeit products. You can rest assured that by purchasing from ActiveGPS you will receive the full support of Garmin.
Page updated: 15th April 2019