Garmin BlueChart g2 Vision HD Blackpool Cardiff marine charts on SD/microSD Card provides rich, seamless marine charting for compatible Garmin marine chartplotters and handheld products. Additional features include autoguidance, ports and harbours photos and more (read more bellow). Map coverage includes Cardiff to Blackpool, Cardigan Bay, Northern portion of Bristol Channel, Holyhead, Liverpool and more.
Simply insert the plug-and-play SD/microSD Card into your Garmin, select the chart via your Garmin's on screen menu and you're ready to use the latest available Garmin BlueChart.
IMPORTANT: While g2 Vision HD charts will work with the Garmin handheld range e.g. Garmin Montana, they will not display premium g2 Vision HD features such as auto guidance when used on Garmin handheld devices.
Compatibility: Scroll down to 'What is the chart compatible with?'.
Garmin BlueChart g2 Vision HD Blackpool Cardiff microSD/SD card - £174.99
Blackpool Cardiff BlueChart for use on your boat/yacht
Buy Garmin BlueChart g2 Vision HD Blackpool Cardiff on microSD/SD card. The marine chart maps provide detailed nautical chart data which enables you to see exactly where your vessel is positioned on BlueChart maps. Also displayed are coastal features, anchorages, obstructions, waterways, tidal stations, currents, contour depths and fishing charts.
Plan and organise your route before you get on the water using the optional HomePort software which which allows you to calculate speed, fuel consumption and arrival time as well as distance and heading for your destination. HomePort is also compatible with Google Earth.
Because all BlueCharts are made to order (custom made at time of purchase) they cannot be cancelled once ordered nor returned for refund. Therefore, please ensure that you are definitely ordering the correct chart and that you have checked that is compatible with your device. We cannot accept any cancellation (even if we have not yet despatched it) nor can we accept the return of a BlueChart order as all charts are 'made-to-order'. Please make sure the microSD/SD card you are purchasing is compatible with your Garmin device before placing your Garmin BlueChart order.
---
Chart Coverage
‣Cardiff to Blackpool
‣Cardigan Bay
‣Northern portion of Bristol Channel
‣Holyhead
‣Liverpool
---
New Chart Guarantee
Buy with confidence from ActiveGPS.co.uk - if a new version of the Bluechart you buy is released within 12 months of your purchase from us, you can download the latest version from Garmin for FREE. Find out more about the new chart guarantee offer here.
---
Key Features
‣Seamless transitions between zoom levels and more continuity across chart boundaries
‣Vector object oriented data
‣Shaded depth contours, coastlines, spot soundings, navaids, port plans, wrecks, obstructions, intertidal zones, restricted areas and IALA symbols
‣1-foot HD contours provide a more accurate depiction of bottom structure for improved fishing charts and navigation in swamps, canals and port plans
‣Port plans
‣Tidal stations for selected countries
‣Aids to navigation with view range and coverage including light sector info
‣Wrecks, restricted areas, anchorages, obstructions
‣Tidal current graphs
‣Standard 2-D direct overhead or 3-D "over the bow" map perspective for easy chart reading and orientation
‣Marina points of interest and slipways
‣Genuine Garmin map product
‣Auto-guidance technology plots best passage on screen
‣Direction of flow for tidal currents
‣High-resolution satellite imagery
‣Overhead aerial photos - ports, harbours, marinas, waterways and coastal roads
‣Displays navigational landmarks and marine landscapes
‣Coastal road coverage for five miles inland (not routable)
‣True 3D-view MarineEye 3D above waterline imagery
‣Fish eye view - 3D view of depths and contours below the water using bathymetric chart data
---
BlueChart g2 Vision HD screen shots
Please note: The images above are screen shots from various Garmin BlueChart g2 HD and g2 Vision charts and NOT necessarily from the BlueChart available to buy from this webpage.
---
Map Version
To ensure you receive the very latest version of the Garmin marine chart for your device, which is currently v2018.5 (v20.0) our Garmin Blue Charts are made to order and despatched same day - for orders placed Monday to Friday before 1:00PM (UK time). What's more all BlueCharts purchased from ActiveGPS come with a FREE new chart guarantee valid for 12 months after purchase, learn more about the new chart guarantee.
IMPORTANT: Because all BlueCharts are made to order (custom made at time of purchase) they cannot be cancelled once ordered nor returned for refund. Therefore, please ensure that you are definitely ordering the correct chart and that you have checked that is compatible with your device.
Please note: Other websites may be selling obsolete versions of this Bluechart, such as V12, V10 or even older.
---
What is the g2 Vision HD Blackpool Cardiff chart compatible with?
g2 Vision HD compatible devices:
The BlueChart g2 Vision HD Blackpool Cardiff on SD card is ONLY compatible with the following Garmin products:
Garmin echoMAP 42dv, echoMAP 45dv, echoMAP 50dv, echoMAP 50s, echoMAP 52dv, echoMAP 55dv, echoMAP 70dv, echoMAP 70s, echoMAP 72sv, echoMAP 75sv, echoMAP 92sv, echoMAP 95sv, echoMAP CHIRP 45cv, echoMAP CHIRP 55dv, echoMAP CHIRP 72dv, echoMAP CHIRP 75dv, echoMAP CHIRP 75sv, echoMAP CHIRP 92sv, echoMAP CHIRP 95sv, ECHOMAP Plus 45cv, ECHOMAP Plus 65cv, ECHOMAP Plus 75cv, ECHOMAP Plus 75sv, ECHOMAP Plus 95sv, GPSMAP 1020/1020xs, GPSMAP 1022/1022xsv, GPSMAP 1042xsv, GPSMAP 1222/1222xsv, GPSMAP 4008, GPSMAP 4010, GPSMAP 4012, GPSMAP 420/420s, GPSMAP 421/421s, GPSMAP 450, GPSMAP 451/451s, GPSMAP 5008, GPSMAP 5012, GPSMAP 5015, GPSMAP 521/521s, GPSMAP 527/527xs, GPSMAP 550/550s, GPSMAP 551/551s, GPSMAP 556/556s, GPSMAP 557/557xs, GPSMAP 6008, GPSMAP 6012, GPSMAP 620, GPSMAP 640, GPSMAP 7012, GPSMAP 7015, GPSMAP 720/720s, GPSMAP 721/721xs, GPSMAP 722/722xs, GPSMAP 7407/7407xsv, GPSMAP 7408/7408xsv, GPSMAP 7410/7410xsv, GPSMAP 7412/7412xsv, GPSMAP 7416/7416xsv, GPSMAP 750/750s, GPSMAP 751/751xs, GPSMAP 8008 MFD, GPSMAP 8012 MFD, GPSMAP 8015 MFD, GPSMAP 820/ 820xs, GPSMAP 8417 MFD, GPSMAP 8422 MFD, GPSMAP 8424 MFD, GPSMAP 8500 Black Box, GPSMAP 8530 Black Box, GPSMAP 922/922xs, Monterra, Volvo Penta Glass Cockpit System.
Not sure whether your Garmin marine or handheld system will be compatible with marine blue charts on preprogrammed microSD/SD cards? Simply email us, or use the online form on our contact us page and provide us with the unit's model, part and serial number normally located on the underside of your Garmin product. We'll then reply with the relevant webpage of available bluecharts for you to browse.
We also have a Garmin map Frequently Asked Questions page where you can ask a question and read questions and answers posted by other customers.
Please note: Older Garmin units e.g. GPSMAP 182c required a data card rather than a SD/microSD, but we no longer stock datacard versions of the BlueCharts - these have been discontinued by Garmin.
---
What's in the box
‣SD card adaptor with preprogrammed microSD card inside - Learn how to install Garmin BlueChart maps SD/microSD Card onto your Garmin marine chartplotter/handheld GPS device.
Please note: Premium features such as quickdraw and 1ft HD fishing contours/1ft shaded depth lines will only display on the latest Garmin chartplotters (there may be other features). Legacy models which don't already offer or include such a feature will not be able to display these features. Please be assured that the new mapping will not remove any features that you already have. To assist customers with older devices Garmin make the latest maps and charts backwards compatible with earlier devices - but data for features introduced for newer devices cannot be processed and displayed by legacy models. Map data cannot upgrade the features of a particular device.
---
Not sure what size Garmin BlueChart g2 Vision HD you want?
Garmin BlueChart g2 Vision HD marine charts are available in three different sizes, these are: Small, Regular and Large coverage. Please see the sample charts below, which all include the Thames Estuary: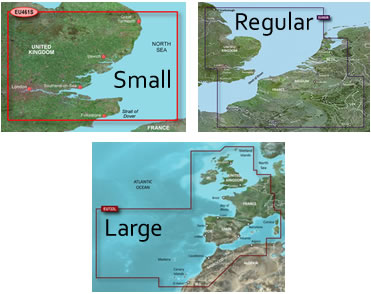 The larger the chart coverage the more area is covered without the need to change or buy additional charts. We suggest buying the chart(s) that provide the coverage for your sailing, fishing or yachting needs.
Please note: There is no difference in the chart detail between different size charts e.g. a Small chart and a Regular chart will have exactly the same detail. The ONLY difference is the coverage or area of water that is included within the blue chart. Of course, the larger the chart area, the higher the cost for that chart.
---
Why buy from us?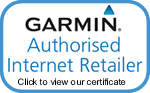 We are official Internet Retailers of Garmin products and we sell the genuine Garmin maps. We always aim to ensure the mapping available at our website is the most recent edition of the software. Beware of other websites selling older mapping that is not the current version of the software.
This page was last updated on: 13th November 2018