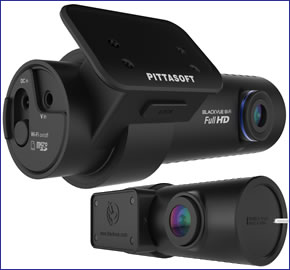 BlackVue DR650S 1CH is a leading front of car dash in-car video camera for installing inside your vehicle. The BlackVue DR650S records in Full HD at resolution 1920x1080. Although the Blackvue has no screen instant video playback is possible using WiFI connectivity on a smartphone. The BlackVue has a parked mode that detects motion when parked and starts recording. The system will also provide voice-guidance informing you of status of device.
The BlackVue has GPS technology which will record your vehicles speed and location. Included in the box is a microSD card to record your journeys onto. The power source can be between 12V and 24V.
BlackVue DR650S 1CH 16GB - £214.99
BlackVue DR650S 1CH 32GB - £229.99
BlackVue DR650S 1CH 64GB - £249.99
BlackVue DR650S 1CH 128GB - £283.67
The BlackVue DR650S is a top of the range in-car camera device for installing inside you car. This BlackVue is a great camera for capturing events in the road for peace of mind and for documentation for insurance purposes. The front camera records in Full HD at resolution 1920x1080. Video can be played-back instantly on a smartphone using the Blackvue DR650S's WiFi connectivity (there is no screen on the Blackvue DR650S). You can also watch Live video remotely from a mobile phone device (using the supplied BlackVue App) using the built-in Wi-Fi. The recording format is MP4, which is compatible with all computers.
If you would like a larger system with an LCD touch screen whereby you can watch videos on the unit itself we recommend buying the BlackVue DR750LW-2CH instead which also includes all the features of the DR650S-1CH.
If you want a Blackvue with a rear camera as well for then we recommend buying the BlackVue DR650 2CH IR or the BlackVue DR650S 2CH.
If you want a Blackvue with an Infra Red rear camera for better night vision capabilities then we recommend buying the BlackVue DR650 2CH IR.
Recording modes include:
Normal - You select to start recording. Device records continuously. You manually need to stop recording.
Event - Only starts recording when the G-Sensor detects an impact. Set to record for either 1, 2 or 3 minutes.
Parking - Device only starts recording when motion is detected. Otherwise power is conserved. Also starts recording if G-sensor detects an impact. Set to either 1, 2 or 3 minutes.
The BlackVue will also record speed information and your location on a map using the built-in GPS technology. There is also a built-in microphone and speaker so you can record sounds in and around your vehicle and listen to back whilst viewing the video on a computer or mobile phone.
The BlackVue DR650S has a super-capacitor battery for use without a charger. The in-car charger has a voltage from 12V to 24V. The included microSD card is either 16GB, 32GB, 64GB or 128GB dependent upon which BlackVue DR650S model you purchase - please see 'add to cart' options above.
The camera lens used is a Sony Exmor CMOS Sensor which ensures good quality recording at daytime and nighttime too. You can also connect a high quality Coaxial Cable for stable Data Transfer ensuring great playback on, for example, a television. There is also an option to send real-time videos to www.YouTube.com. A Google map are also built-in.
---
BlackVue DR650S 1CH FAQs
Do you have a question about the DR650 that's not been answered on this webpage? Please see our Dash Cam FAQ's for questions from other people. If the answer to your question isn't featured, use the online form to ask us for the answer. Alternatively please telephone 01733 777623 Monday to Friday (9:30am-5:00pm) to speak to one of our sales team. For further information online please see the BlackVue dash cam comparison table.
---
BlackVue DR650S 1CH Full HD Features
‣Full HD Video
‣Front 1080p Full HD dashboard camera for recording events in the road when driving and parked.
‣129 degree viewing angle
‣Wi-Fi technology enables instant playback on a smartphone
‣GPS technology
‣Records in MP4 format
‣Sound recording
‣PC/Smartphone viewing using Wi-Fi
‣Motion Detection in Parking Mode
‣Built-in G-sensor
‣Stylish and Compact Design
‣Voice Guide
‣Includes either 16GB/32GB/64GB/128GB microSD card - depending which model is purchased
‣One touch formatting of the microSD card
‣1 Year manufacturers guarantee
---
Installation
Included in the box with the Blackvue DR650S is a quick release windsceen mount and 12/24v power cable. You can use the windscreen mount to locate the DR650S on the front windscreen. Many customers choose to locate the Blackvue in the centre of the windscreen near the rear-view mirror which offers a discrete installation.
Additionally, if you'd like to hardwire the BlackVue DR650S HD dash cam into your vehicles battery, you can do so by purchasing the BlackVue Power Magic Pro electric power controller (which is sold separately). The Power Magic Pro will operate in cars, vans and other commercial vehicles with a battery power supply of either 12 volts or 24 volts. In addition, once installed the hardwire power kit enables your BlackVue dashboard camera to continue to operate even when your vehicles ignition is switched off.
View and buy the BlackVue Power Magic Pro
What's in the box? (when purchased from ActiveGPS.co.uk)
‣BlackVue DR650S-1CH (Front Camera)
‣Vehicle Power Cable
‣Double-Sided Tape for Mounting
‣Cable Clips (5 included)
‣16, 32, 64 or 128GB microSD Card dependent on model purchased
‣microSD Card Reader
‣User Manual
---
BlackVue DR650S HD Technical Specification
‣Technology: Built-in GPS, WiFI and 2.4 Mega Pixel CMOS Sensor
‣Display: None, smartphone connectivity for instant playback
‣Resolution: Front camera 2.4 MegaPixel (1920x1080) @ 30fps
‣Angle of view: The front camera is 129 degrees diagonal viewing angle
‣Video compression: MP4
‣Video out: Yes, Coaxial Cable
‣Frame Rate: 30, 25, 20, 15, 10 frames per second
‣SD card: 16GB, 32GB, 64GB or 128GB, depending which DR650S model is purchased
‣Audio: Speaker and Microphone built-in
‣Mains power: DC 12V-24V
‣Battery: Rechargeable 130mA
‣Dimensions: front camera Width 118.5 mm x Height 36 mm
‣Weight: 94g
‣Guarantee: 1-year
‣BlackVue DR650S 1CH manual

Manual requires Adobe Acrobat Reader
Download a free copy here
This product is a sophisticated electronic device which requires that you read, understand, and act upon the information given in the instruction manual (usually available via the above 'manual' link). You will need internet access and, in accordance with the manufacturers' recommendations, regularly seek out and accept all firmware or software updates offered by the manufacturer. All GPS devices need to 'see' the satellites in the sky. Therefore you will need to know that your vehicle does not have glass that will block or impede the GPS signal.
Page updated: 13th November 2018