Kenwood KNA-SD18E Garmin City Navigator NTU Europe maps on microSD card provide you with highly detailed street-level road mapping.
Kenwood KNA-SD28E Garmin City Navigator NTU Europe maps on microSD card provide you with highly detailed street-level road mapping.
Authentic Kenwood Garmin maps
We only sell authentic Kenwood Garmin maps. Further to this we are also a Garmin Authorised Internet Retailer. So when you buy from us you can be assured that you will receive exactly what Garmin/Kenwood intended you to use with your Kenwood sat nav.
All of the maps available from ActiveGPS are genuine and most are on microSD/SD card. We hold extensive stocks and offer guaranteed next working day delivery (various options including a Saturday guaranteed) as well as economy and standard (1-4 day+) delivery options, starting from £3.99.
Please Note: your device may require the latest software update. For further tips and help with installing and loading Kenwood SD/microSD Cards click here. Plus you may wish to find or ask a question via our frequently asked questions page.
IMPORTANT: Because all Kenwood maps are made to order (custom made at time of purchase) they cannot be cancelled once ordered nor returned for refund. Therefore, please ensure that you are definitely ordering the correct map and that you have checked that is compatible with your device.
This special order item may take up to two weeks to obtain.
---
Kenwood Map Questions and Answers
Question: I have a Kenwood DNS5260BT with 2015 maps, what SDCARD updates are available please?
Answer: We no longer sell the maps on SD card for the Kenwood sat nav range.
This is due to the fact that Kenwood have discontinued them.
---
Question: Would you be able to advise if the latest garmin City Navigator NT 2018 UK and ROI  map would work on a Kenwood KNA-G520.
Answer: Unfortunately the Garmin City Navigator NT 2018 UK and ROI are not compatible with the Kenwood range of sat navs.
We do not sell compatible maps for use with the Kenwood KNA-G520. Can I suggest you contact Kenwood.
---
Question: We have a 2009 Alfa Romeo Brera to which is factory-fitted Kenwood DNX5240BT.  Is it possible to update the maps on this device?
Answer: We list and sell maps for various Kenwood models, however your model is not one of the ones we sell maps for. We would therefore recommend you contact Alfa Romeo or Kenwood. Sometimes maps are only available exclusively from the car dealer.
Do you have a question about Kenwood maps? Submit your question via our contact page.
---
Why buy from us?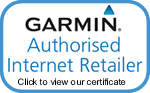 We are official Internet Retailers of Garmin products and we sell genuine Garmin accessories and maps. We purchase from the Garmin UK distributor. We do not buy on the grey market and we do not sell counterfeit products. You can rest assured that by purchasing from ActiveGPS you will receive the full support of Garmin.
Page last updated: 15th June 2018