Garmin dezl 560LT is designed especially for use in trucks, HGV's, motorhomes and other large vehicles. But it can also be used in cars, thanks to 4 different transportational modes! Simply input your vehicles size and dezl 560LT with route you along roads that are suitable for the truck, motorhome, HGV, etc you happen to be driving!
The dezl 560LT features a large 5-inch touchscreen display and street-level road maps for 44 countries in both West and Eastern Europe. The 560 truck sat nav also comes with lifetime traffic - so you always know what holdups lie ahead too!
Garmin dezl 560LT has been discontinued.
Accessories, spares and parts are still available for your dezl 560LT as are street-level road maps.
The replacement model is the Garmin dezl 580LMT-D:
View the latest range of truck sat navs.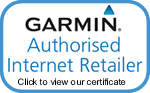 With its 5-inch (12.7 cm) high-resolution touchscreen display, Garmin dezl 560LT provides a wealth of information in great detail. PhotoReal Junction View delivers a realistic reproduction of road signs and junctions along your route, with stunning landscape detail for exceptional clarity right down to the exact trees and pylons! With Lane Assist, theres no more guessing which lane you need to be in, dezl uses arrows to indicate the right lane for navigation at the right time - especially helpful when navigating complex motorway exits and junctions. So theres no need for panic, hesitation or last-minute lane changes, even on unfamiliar routes.
Premium Lifetime Traffic Avoidance
Steer clear of traffic with Garmin dezls integrated FM traffic receiver and free lifetime traffic updates. Receive alerts about traffic delays and road construction that lie ahead on your planned route. Next, simply touch the screen to view traffic details or get an appropriate detour around the problem area.
Garmin nuMaps Guarantee - simply register your new Garmin dezl 560LT within 90 days of first using your sat-nav to see if a free map update is available. See map coverage below for more details.

Safer, Smarter Routing In The Cab
Preloaded with detailed full Europe maps (44 countries, truck coverage may vary), for turn-by-turn directions and spoken street names, dezls specialised routing supports truck-related restrictions customisable by your vehicle height, weight, length and hazardous materials. Simply enter your trucks profile and dezl guides you onto suitable truck-verified roads, avoiding towns, cities and routes where relevant restrictions apply. You can even set up custom avoidances for specific roads and areas. Advanced multi-point truck routing finds the most efficient route between multiple stops and users can maintain various truck and driver profiles across a fleet, changing the active profile at any point.
Smarter Parking
dezl makes finding an appropriate place to park much simpler with its "exit services" feature, which enables drivers to quickly search upcoming motorway exits for food, fuel, lodging, rest areas, truck stops and weigh stations. Once refuelled, the quick-release powered mount with Park Position Recall helps you navigate back to your parked vehicle to get quickly back on the road
nuRoute Technology Predictive Routing
Garmin dezl 560LT includes nuRoute technology with trafficTrends historical traffic and myTrends predictive routing. trafficTrends automatically learns daytime trends for traffic flow to improve your routes and better predict your estimated time of arrival based on time of day and day of week. With myTrends, when you save your regular destinations in your "Favourites," Garmin dezl 560LT will, over time, begin to predict where you're going without you having to activate a route. Providing the most accurate time of arrival and best route based on relevant traffic information, whether you're driving to and from work or a regularly scheduled weekly event, Garmin dezl 560LT helps you get there on time - no subscription or additional cost required.
Make Hands-free Calls
For hands-free calling, Garmin dezl 560LT integrates Bluetooth wireless technology with a built-in microphone and speaker. Just pair with your compatible Bluetooth phone and talk hands-free through the Garmin dezl 560LT. Simply dial numbers with dezl's touchscreen keypad to make a call. To answer calls, just tap the screen and speak into the microphone. Enjoy convenient one-touch dialling for your phone book contacts and points of interest and make sure you're giving the road your full attention.
Customise and navigate
Give a one- to five-star rating to any point of interest. Then once your unit is connected to your myGarmin online customer account, you can submit and share your ratings and receive an updated community database of other users' scores.
Save time by customising your device's main menu to display your favourite and most-used icons for quick and simple navigation.
Garmin dezl 560LT is portable and multimodal and easily switches from truck to car or RV/motorhome/caravan mode for taking with you between vehicles.
Cyclops Safety Camera Alerts

Stay aware of safety cameras throughout Europe and travel safely, legally and speed-consciously. Every Garmin sat-nav has the full Cyclops safety camera database loaded inside to bring speed alerts - and only those specific to the road you are travelling and direction of travel. Keeping safe and accident-free will help you maintain lower insurance premiums and avoid penalty points and fines too.
---
Garmin dezl 560LT Features
‣5-inch wide touchscreen display, sleek design that fits easily in your pocket
‣Street-level mapping for the UK, Eastern and Western Europe (44 countries) with 90 day nuMaps Guarantee
‣Truck data including low bridges, narrow roads and weight restrictions - truck coverage may vary country to country*
‣Turn-by-turn guidance with voice prompts
‣Lane Assist/Junction View - illustrates the correct lane choice for upcoming turns and exits
‣3D map view display
‣3D building in major European cities
‣Road hazard warnings and advisories
‣Advanced multiple point truck routing
‣NTTS trucking data
‣8-digit postcode - navigate using full UK postcode search
‣Auto re-route (fast off-route and detour recalculation)
‣Choice of route setup (faster time, shorter distance, off road)
‣Route avoidance (avoid motorways, tolls etc.)
‣Free lifetime traffic subscription for the United Kingdom to avoid those long delays
‣Bluetooth wireless technology for hands-free calling through your Garmin sat-nav
‣Custom POIs (ability to add additional points of interest)
‣Configurable vehicle icons (select car-shaped icons for map navigation)
‣World travel clock, currency and measurement converter, calculator
‣Rechargeable Li-ion battery (up to 4 hours)
‣Speed camera locations via Cyclops speed camera database
‣Garmin Lock (anti-theft feature)
‣Built-in Cyclops speed camera database (includes fixed camera locations and mobile hot-spots)
‣1 Year manufacturers guarantee
*Not available in all areas. Garmin advise that entering your truck's profile e.g. height, weight, length, etc does not guarantee your truck's characteristics will be accounted for in all route suggestions. Always defer to posted road signs and road conditions.
---
Installation
The Garmin dezl 560LT has been designed to be plug and play, and as such can be transferred from vehicle to vehicle with ease. The Garmin dezl 560LT is powered via the supplied vehicle power cable which includes an integrated GTM 35 Premium traffic receiver for real-time traffic updates. The Garmin dezl 560LT then sits on your vehicles dash via the supplied weighted Portable Friction Mount. Windscreen suction cup mount is also available and sold separately.
Map Coverage

Garmin dezl 560LT comes preloaded with detailed City Navigator street maps for the UK, Eastern and Western Europe (44 countries) provided from map supplier NAVTEQ. Rolling screen transition, accelerated map redraw and routing capabilities make screen zooming even smoother and ensure the navigation always matches your pace.
If you'd like to buy additonal maps for another region e.g. North America or Australia and New Zealand. These can be viewed and purchased via the dezl 560LT map page.
What's in the box? (when purchased from ActiveGPS.co.uk)
‣Garmin dezl 560LT
‣FM TMC Traffic Receiver/12-24 volt Vehicle Power Cable
‣Dash mount
‣Micro-USB Cable
‣Quick Start Manual
---
Garmin dezl 560LT Accessories
Looking for accessories and spares for the Garmin dezl 560LT? View the full range here. All parts are genuine Garmin product and specifically designed for use with the 5-inch dezl 560LT truck sat nav.
Garmin dezl 560LT Maps
Looking for sat nav maps for the Garmin dezl 560LT view them all here. All mapping comes on microSD card with SD card adaptor and is a genuine Garmin product. Areas available to buy include: Southern Africa and Middle East and Northern Africa.
---
Garmin dezl 560LT Technical Specification
‣Technology: GPS
‣Display: 5-inch WQVGA colour TFT with white backlight
‣Power: 12-24 volt, cigarette lighter
‣Battery: Rechargeable lithium-ion up to 4 hours (depending on use)
‣Installation: Plug and play
‣Dimensions: Width - 137mm, Height - 83mm, Depth - 15mm
‣Weight: 192.0g
‣Guarantee: 1-year
‣Garmin dezl 560LT manual

Manual requires Adobe Acrobat Reader
Download a free copy here
This product is a sophisticated electronic device which requires that you read, understand, and act upon the information given in the instruction manual (usually available via the above 'manual' link). You will need internet access and, in accordance with the manufacturers' recommendations, regularly seek out and accept all firmware or software updates offered by the manufacturer. All GPS devices need to 'see' the satellites in the sky. Therefore you will need to know that your vehicle does not have glass that will block or impede the GPS signal.
---
Why buy from us?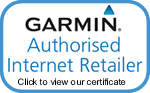 We are official Authorised Internet Retailers for Garmin. We sell genuine Garmin products, accessories and maps. We purchase from assigned Garmin UK distributors. We do not buy on the grey market and we do not sell counterfeit products. You can rest assured that by purchasing from ActiveGPS you will receive the full support of Garmin.
Page updated: 14th March 2019